We have an overstock of the rebuild kit (Gaskets and Seals) for the BMW 5HP19 5-speed automatic transmission. ZF 1060 298 030
Use Genuine ZF parts for your ZF transmission rebuild to ensure proper fitting with a complete set of all internal seals and gaskets.
List Price $317 CAD (=$246 USD)
Special Overstock price of $190 CAD (=$148 USD)
Customs cleared for immediate shipment within Canada, next day shipping available.
In Original ZF Carton 2 pounds, 20 x 16 x 2, assembled in the European Union (Portugal)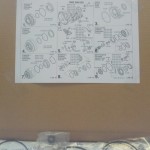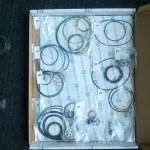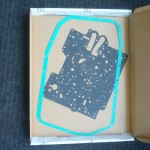 We also have Steels, Frictions, Pistons, Drums, Solenoids, Sprags, Manual Valves, etc.
Fits
2000 BMW 320i, 323Ci, 323i, 328i, 728i
2001 BMW 330Ci, 330i, 320i, 325Ci, 325i, 525i, 530i
2002 BMW 330Ci, 330i, 320i, 325Ci, 325i, 525i, 530i, Z4 2.5i, Z4 3.0i
2003 BMW 330Ci, 330i, 320i, 325Ci, 325i, 525i, Z4 2.5i, Z4 3.0i